Journal Entries from Albania
Sunday, May 26, 2013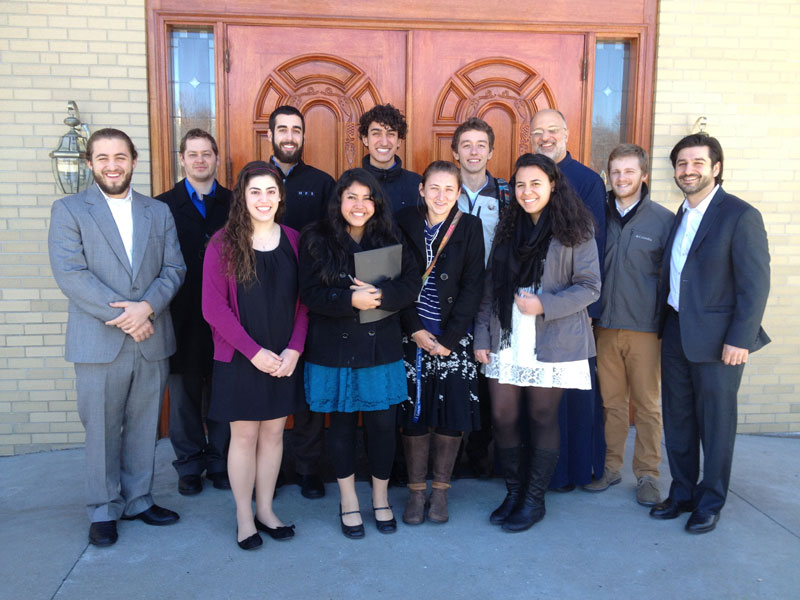 Most of our group back in April at our first meeting at Sts. Constantine & Helen in Webster, MA.
Miredita! Today, we departed on our class trip to Albania. I will be spending the next 10 days traveling in Albania along with 12 other students (mostly from Hellenic College Holy Cross), Fr. Luke Veronis, and Fr. Alkiviadis Calivas. It is part of a 3-credit class studying the missiology of Archbishop Anastasios at the seminary. We already spent the last week in 15 hours of classes, and during that time, we've read 3 books, wrote 3 papers (I'm still finishing mine up!), and had a chance to begin bonding with my fellow classmates. Just like I have done in past semesters, I am also juggling my work responsibilities with the classwork, which is a bit of a challenge, but I have been doing alright with it so far. Once all is said and done (in just over one month's time), I will have written about 35 pages for this class, explored and learned about a whole new country and culture, grown closer with a dozen other people, and hopefully grown deeper in my faith and spirituality. I am very excited about the possibilities and opportunities of this trip, and I look forward to the unknown too.
The day began with Liturgy in the morning at the Holy Cross Chapel. It was a beautiful service and an opportunity to begin my journey in prayer with my fellow classmates. Every morning this past week, we have started our class in prayer, praying in both English and Albanian, focusing ourselves on God. Having a grounded spiritual life is crucial both for our short-term work on this trip, for long-term missionaries, and for each and every one of us as Christians. As the years go on, I realize and have a deeper appreciation for this more and more.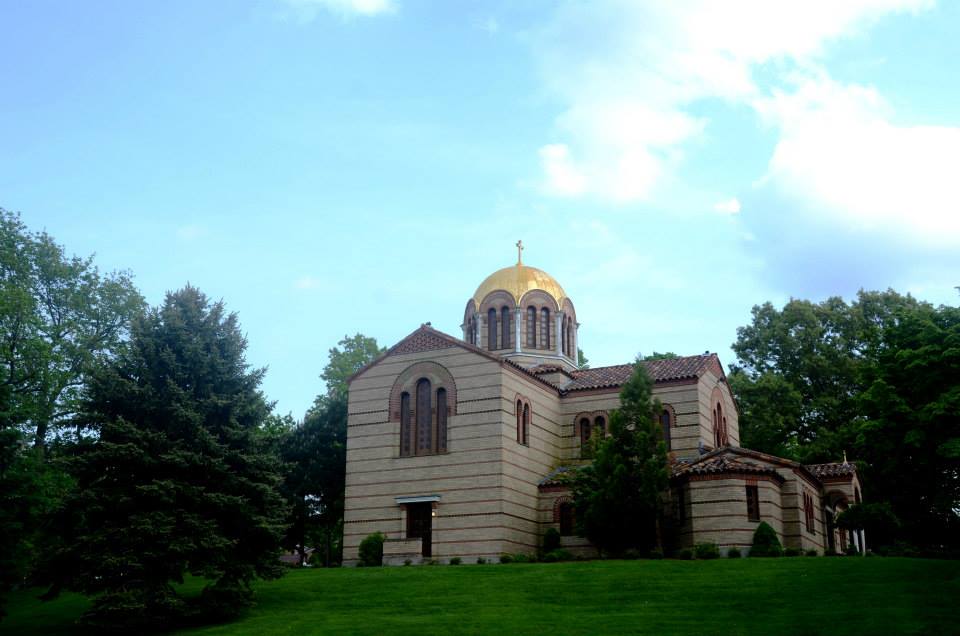 The Chapel at Hellenic College Holy Cross Greek Orthodox School of Theology (Luke Bullock, Photographer)
Following Liturgy, I ran off to Barnes and Noble Bookstore to pick up a travel or language book on Albania, but there wasn't a single one. The closest thing was a chapter within a larger Eastern Europe travel book. I guess the good side of this is that the lack of attention by the tourism industry means that the country won't be overrun by tourists. After arriving back on campus and packing the van, we had our awkward first-day conversations as we departed for the airport. We were all starting to get comfortable with one another, so it was slow going, as was expected. From what I can gather so far, everyone in our group is a quality person and I look forward to getting to know them better. There were no major problems thankfully – aside from a couple overweight bags. I explored for a bit and then began working on my 2 remaining papers for class. I made some progress on land, and continued to work while on the plane.
The plane ride went by in no time. I watched two movies (Argo and Iron Man), worked on two papers (almost finished both), and chatted a bit with people. Regrettably, I didn't sleep enough. I fell asleep for about 15 minutes at one point, but then I was awoken as someone came in to sit in the empty seats in our row. At the time, it wasn't that big a deal really, but it would have helped me to get more rest before beginning our whirlwind tour. We stopped through Rome for a flight changeover for a couple hours, and soon enough we were in Albania!
In preparation for this moment, I tried my best to focus on learning Albanian as much as I could. In the past semester's class with Fr. Luke as well as this current class, he stressed the importance of learning the language of where you are traveling. It shows respect and honor to the other person, and it opens the doors of possibility for you when traveling. As I said, I tried my best to learn what I could, but I probably could have done a better job. Then again, we can always do more, so I will pray that God fills in the gaps where I am deficient and allows our time in Albania to be fruitful despite any breakdown in communication and language that occurs.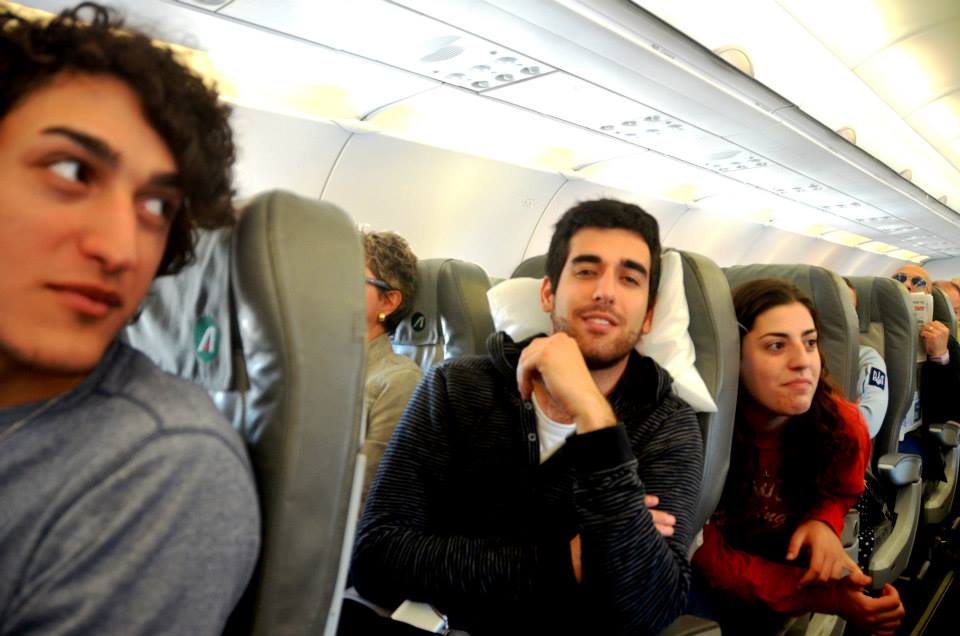 Excitement brews on the airplane as we approach Albania (Luke Bullock, Photographer)
Monday, May 27, 2013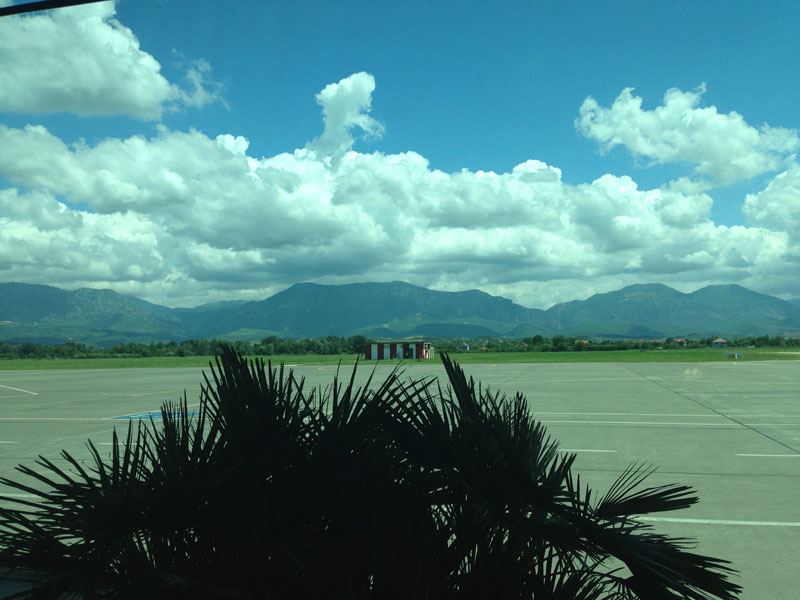 Our view of the countryside as we entered the Tirana airport terminal
On Monday late-morning, we arrived at the airport in Tirana after a brief stopover in Rome. As we depart from the plane, the beauty of the countryside immediately strikes me. Mountains surround the runway, and they are glorious. Entering the terminal, I can't help but be struck by how small it is given that we are at the major airport in a country's capital city. I believe that many of my notions of how things should be will be tested on this trip.
As I remarked yesterday, knowing a person's native language can go a long way, and already, I've seen it in practice. When someone sees that you are trying to speak their language, it gives them a sense that their culture is meaningful to the other person – even if it is just a few words. As I waited for the border agent to stamp my passport, I offered a few of the words that I knew to say "Miremengjes" (Good morning), "Falimenderit" (Thank you), and "Unë nuk flas shqip shumë mirë" (I don't speak Albanian very well). It wasn't much, but I could tell that the border agent appreciated my effort. After a brief exchange, he sent me on my way, and I met up with the rest of the group.
Outside the airport, we met up with Nathan Hoppe, the lead missionary in Albania from America, a handful of other local workers for the church, and Laurence, our driver for the next two weeks. Nathan and Laurence's vans will be our transports and where we will spend a good majority of our time while on this trip. We travel from the airport into the city of Tirana, and to the outskirts of the city, which is where we will be living for the next two weeks.
Leading up to our trip, I have had stuck in my head for quite some time the Albania song from Cheers, where Coach is teaching Sam geography so he can pass his GED test using mnemonic devices. So far, I can say that they got the part about its land being "mostly mountainous" right: every direction you look, there are mountains, and just like at the airport, they are a sight to see. We shall see about the rest of the song as the trip develops.
Our home for the next two weeks is the Tabor Center, a former hotel turned retreat center for the Church. The Church in Albania just began a Byzantine Music program where chanters attend a 1 or 2-year program, which is housed here. We met the students upon arrival – all very nice gentlemen. Most of them speak very good English too. We had quite a bit of free time this afternoon, where we had the opportunity to get to know them. Unfortunately, with new crowds of people, my introverted tendencies take control, and I usually have to force myself to engage in conversation with new people. I could have done better to get to know the guys, but luckily we had more opportunities throughout the trip. In retrospect, I realize how important it is to take advantage of every moment that is presented to us. We also met up with the Ritsi Family - Stephanos and Alexandria - who are brand new missionaries in Albania. We have mutual friends from during their time at Seminary, but I never got to get to know them then. My friends always spoke very highly of them, so I look forward to getting to know them myself now, especially since they will be joining our team for the entire trip!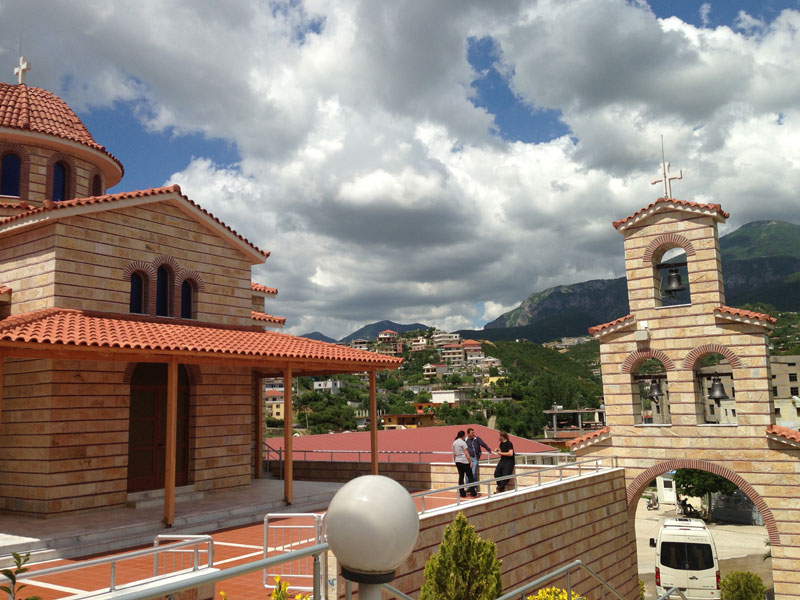 The Chapel at the Tabor Center, our home for the next 10 days.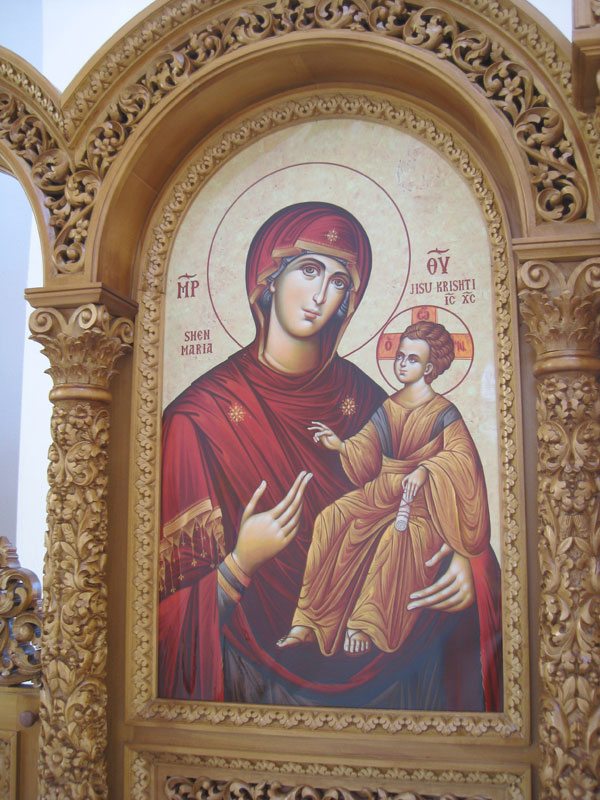 Icon of the Theotokos on the Iconostasis at the Chapel at Tabor Center.
This evening, we met Bishop Asti, a young hierarch of the Church who exudes a great deal of joy. He took us on a tour of the new Resurrection Cathedral in Tirana. The church proper and the entire facility were very impressive. We even got a private tour of the unfinished Chapel and Bapistry by the iconographer who was actively working on the iconography inside the Chapel. I realize that we will have access to opportunities and experiences that we would never get on our own because we are a part of this class trip.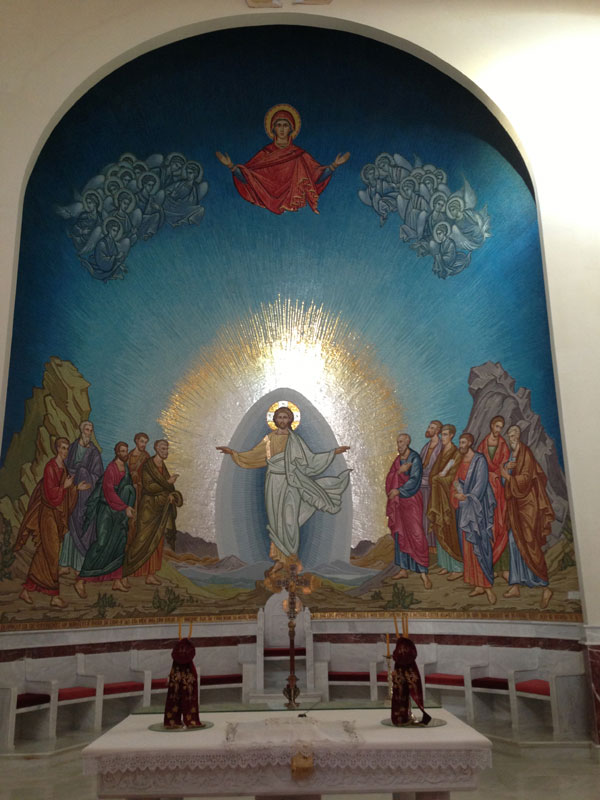 The Altar at the Resurrection Cathedral in Tirana. The Cathedral first opened in July 2012 after years of negotiations with the government in attempts to reclaim land for the Church in central Tirana.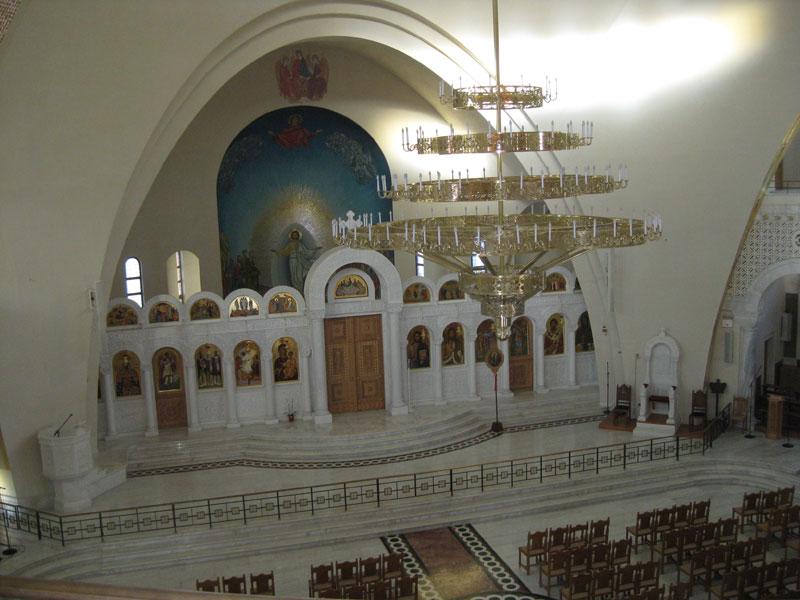 A bird's eye view of the Resurrection Cathedral in Tirana from the rear balcony. The Cathedral is the 3rd largest Orthodox church in Europe.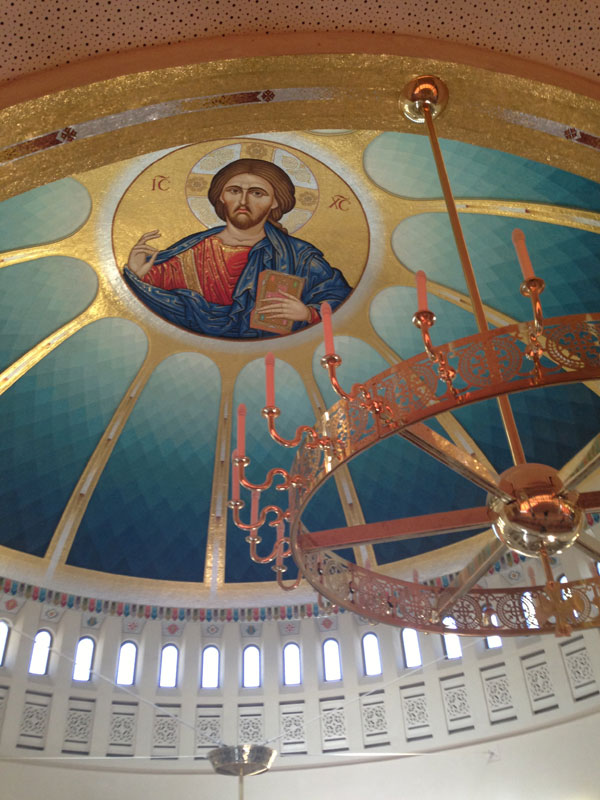 The Dome of the Resurrection Cathedral of Tirana.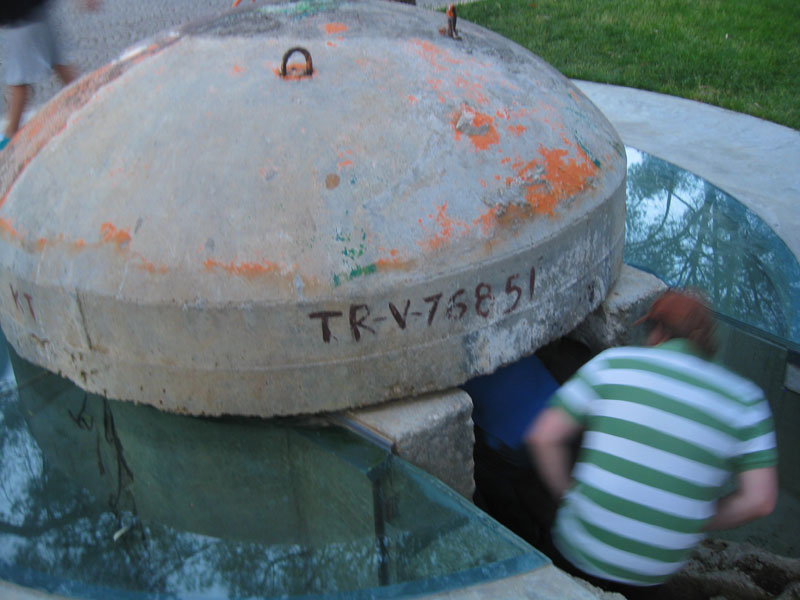 A remnant of the days of communism, this concrete bomb shelter is one of thousands that dot the cities and countryside, placed there by the government in case of foreign invasion.
Tuesday, May 28, 2013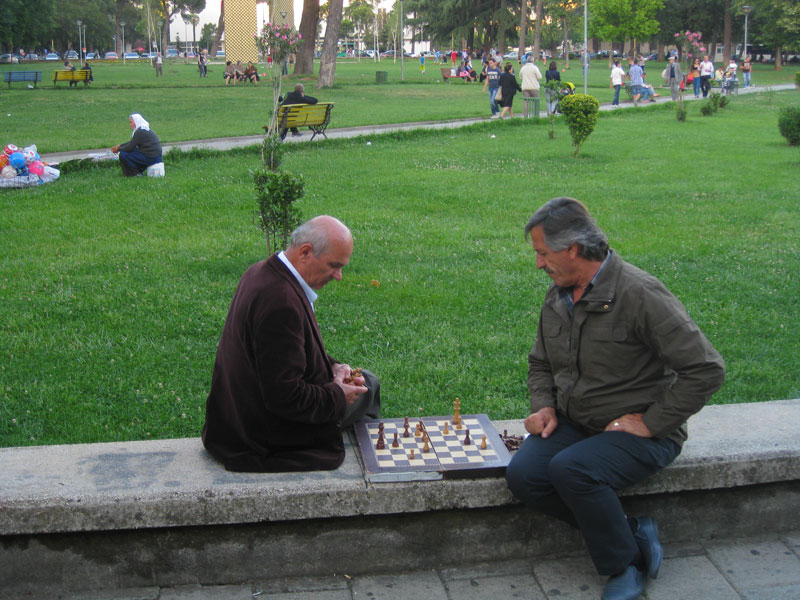 Playing Chess in the Park near the center of Tirana.
On this trip, we are encouraged to think about whether we want to take on the challenge of a life as a missionary. Earlier in Archbishop Anastasios' life, he was confronted with this same challenge. His deciding factor was in his positive response to the challenge, "Is God Enough?" For him, He was, and so began his life as a missionary. For me, this is a scary notion. I want to say that God is enough for me too, but I guess I am not ready to say that wholeheartedly, though part of me wants to. As Mother Gavrilia states, "God is not interested in where you are or what you do...He is interested only in the quality and quantity of the love you give. Nothing else. Nothing else." For now, I am both learning and serving the Church in Boston, and I believe that this is the right place for me. However, I will take this trip as an opportunity to contemplate my calling more. I must remember to pray, "How do I act out Your will in my life?" and hope that God shows me.
What we've seen so far of Albania is beautiful. Where we are staying – just on the outskirts of the City of Tirana – feels like Paradise. The weather has been gorgeous, it is beautiful all around us - the warm glowing sun, palm trees, tropical flowers and plants, colorful buildings, lizards - and we are just in sight of the city, but it is quite quiet.
I was late to chapel this morning! I needed over 10 hours of sleep, I guess, and thought I'd have time to shower, too. Nope! Luckily, they were not only waiting for me, but also for the key to get into the chapel. On my way down, the guys with the key were also going down the stairs and gave me the key to bring to Fr. Luke. I've taken on the responsibility of leading the music during our prayer services since I am the most experienced chanter, it seems. Yikes!
At breakfast, we sat with the youth team under the supervision of Ana Baba. They are a really great group of people. I'm extremely impressed at how much English everyone knows. After Breakfast, I met the MacDonald family. The parents are missionaries and just started a couple weeks ago. Two of the kids are in college and spent the day with us – Anna and Alex. They both seem pretty awesome and will be joining us for the majority of the trip. They have 3 younger siblings too who will be living in Albania with the parents. So, our group of 15 has quickly grown to 19, and on some days, we will even number over 26.
After breakfast, we had a meeting with the youth team, led by Nathan. They shared with us the programs that they run. During the session, Nathan Hoppe reminded us, "The Church is only ever one generation away from extinction." Transmission of the Faith needs to happen within Family and Community from one generation to the next. These are both critical to see growth in the Church. I realize that we need to take youth ministry much more seriously in the USA. We take for granted all that we have at our hands and assume that only a small effort will have a big impact and be enough to sustain the church into the next generation.
We are here to preach Christ's resurrection, and must not be afraid to do so. But we need to communicate that in a way that the other will understand. Fr. Calivas relates us to Titus and Timothy. St. Paul is the lit candle reaching out and touching other candles and passing on the faith. We must be ready to light the other candles that surround us.
In the afternoon, we visited the Protagonist School, which Shannon Sakellariou helped start in 2002. We then heard from the Philoptochos organization of Tirana. Fr. Calivas told us that we as Christians are called to be "Philothei" (lovers of God) and "Philoptochoi" (lovers of the poor). We must take these labels seriously and not just look to take care of ourselves.

Tatiana, Director of the Protagonist School, with Anthony and Sebastian. When my friends Panayioti and Shannon were in Albania as missionaries over 10 years ago, Shannon was one of the founders of the school, and it continues to thrive today. Though the School is a ministry of the Church of Albania, it must adhere to the government guidelines for school curriculum. Any religious instruction in private schools must be extra-curricular.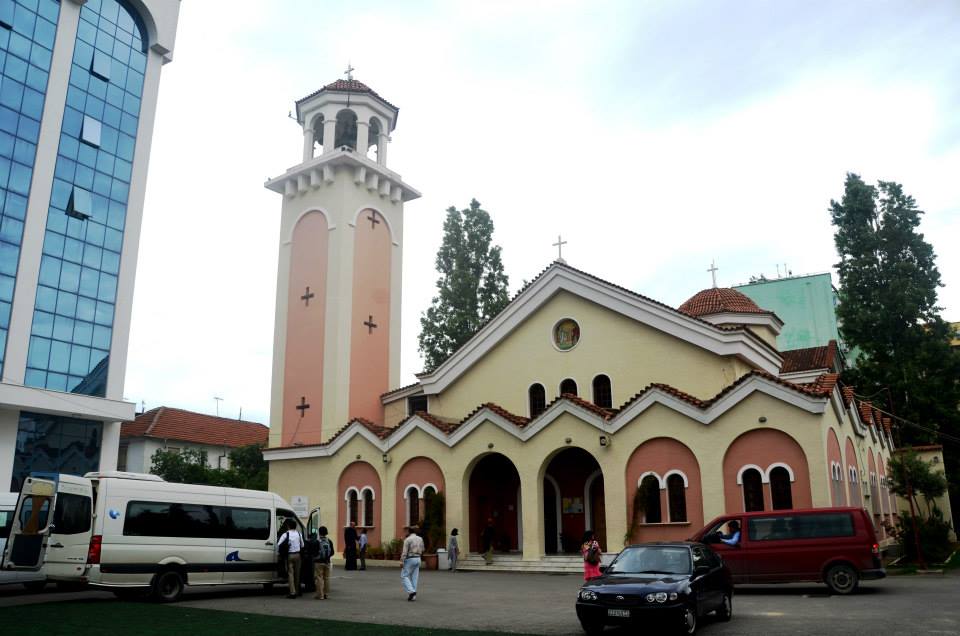 Annunciation Church of Tirana, which stands next to the Protagonist School (left), was the former Cathedral before the Resurrection Cathedral opened its doors. During the time of communism, it was luckily never destroyed, but it was severely neglected and damaged. In 1990, after religion was allowed to be practiced again, faithful came to this church and began the process of repairing the roof, cleaning it up, and restoring it to its earlier majesty. (Luke Bullock, photographer)
Wednesday, May 29, 2013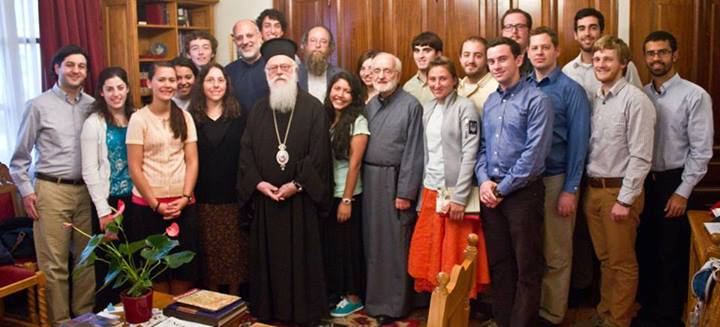 Archbishop Anastasios poses with our extended group: the students from HCHC, St. Vlad's, and St. Tikhon's; Fr. Luke; Fr. Alkiviadis; the Ritsi family; and the Macdonald family.
Last night was a great blessing as well as an opportunity for a running joke for the trip! We were given a private audience with Archbishop Anastasios at the old Metropolis center. Upon arriving at the Archbishop's office, we realized that there wasn't enough room since our group grew with the addition of the Macdonalds and Ritsis. As we packed in, I found myself closest to the Archbishop's desk, and he told me to sit in his chair. After refusing a couple times, I finally gave in and sat down in it, but of course the story doesn't end there. For the entire rest of the trip, Fr. Luke and Fr. Alki joked calling me "His Beatitude." I'm pretty sure that I didn't offend anyone, but I've been a little nervous nonetheless. We had the chance to ask the Archbishop anything, and he offered us honest and thoughtful responses to each one of the questions. I was impressed how he dealt with us each as individuals in his responses. With each answer, he was so engaged and connected with that individual, showing how the other was the most important thing to the Archbishop at that moment, truly living in the present.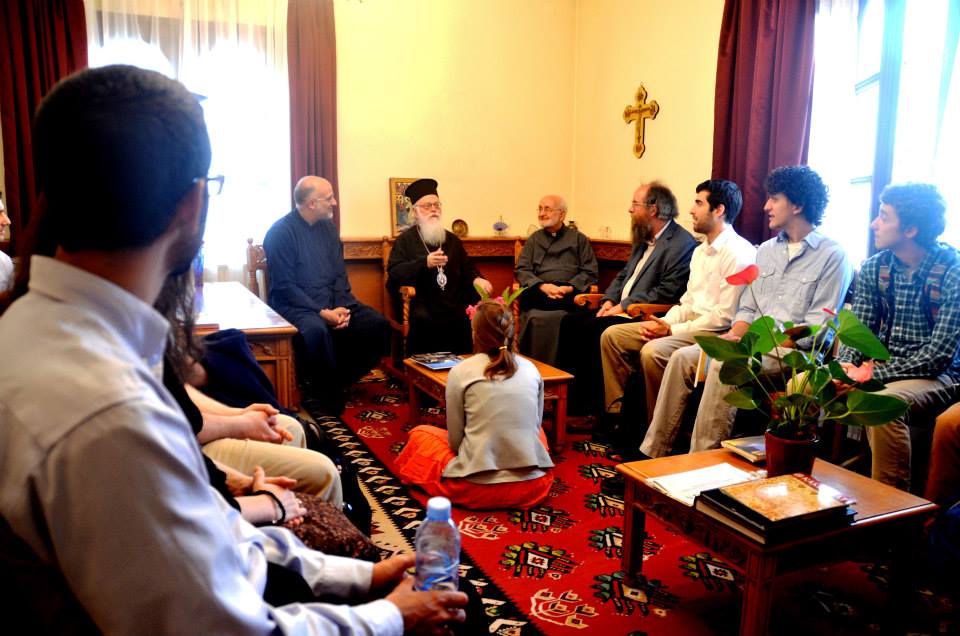 Archbishop Anastasios imparts his wisdom on us. You can catch a bit of my nose on the left side of the photo. That's me sitting at his desk! (Luke Bullock, photographer)
Today, we traveled to Durres to visit the Theological School of the Church. On the way, we stopped by a church-run High School. The headmaster is formerly a well-known Math teacher who also seems to be a very faithful man. The boys have a normal high school curriculum but also go to chapel services and learn byzantine chant. They were all very good. Everywhere we go, the people will sing – every meal and every encounter. This was explained to us, but it really didn't register with me how significant this would actually be.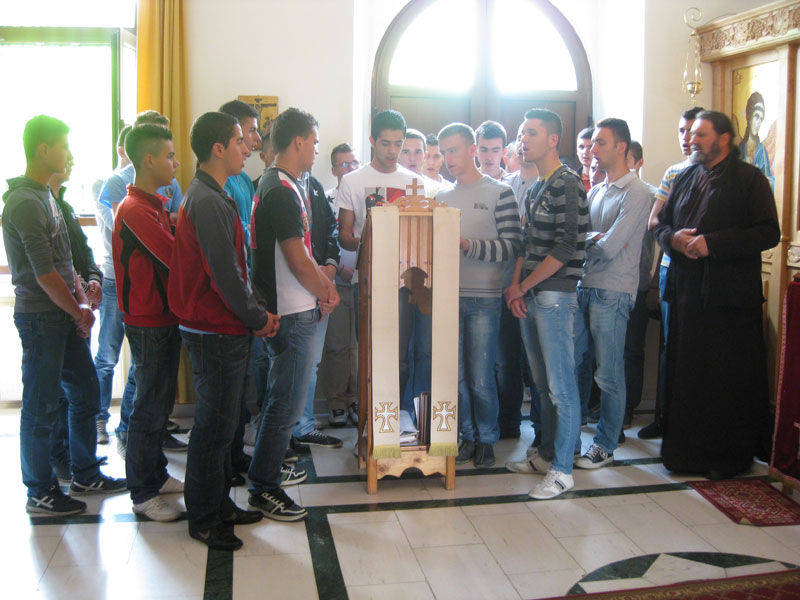 The boys of Holy Cross High School chant beautifully for us.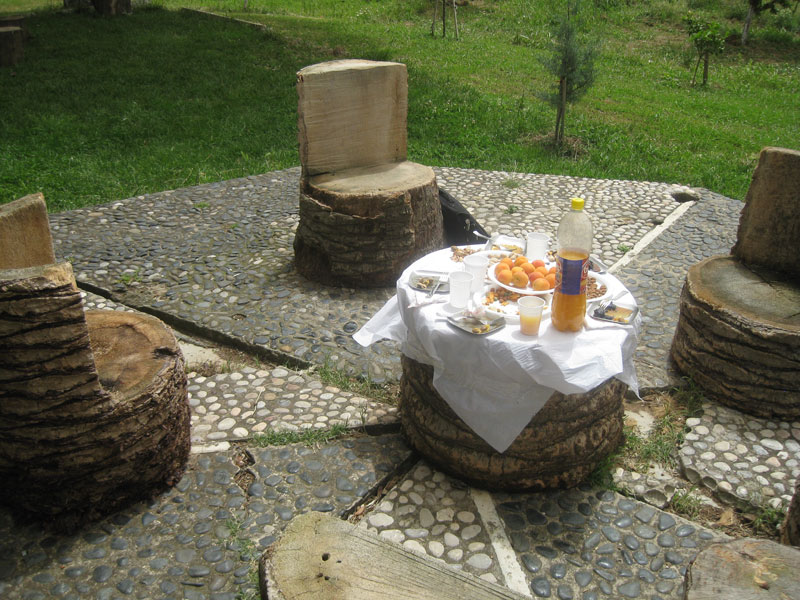 A touch of the hospitality that we were shown at Holy Cross High School.
Music is part of their language, part of how they communicate and share common experiences. Each group sang a few songs back and forth for the other, and then after touring the school and a brief interaction with the students, we went outside for some refreshments. Small tables and chairs made out of tree trunks were set up with snacks for us. This was yet another example of how well we are treated everywhere we go. The food and refreshments are always delicious, we are always well fed, and the people are always extremely gracious to us. These are the most hospitable people I've ever encountered! Comparatively, we have so much more materially in America; yet, they are so much more giving than we are to them.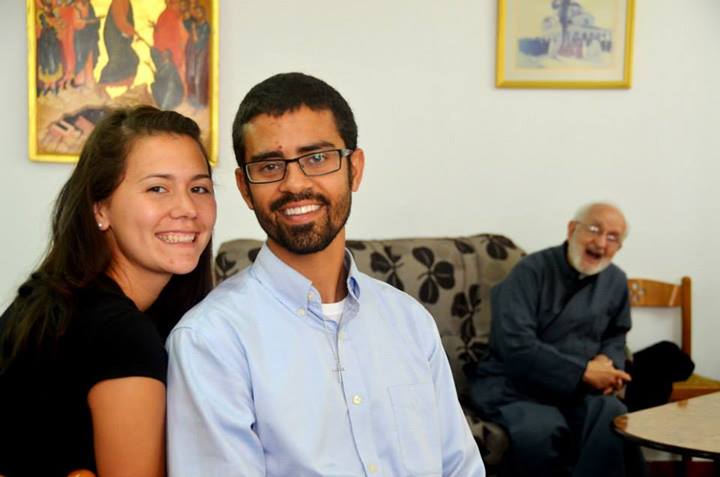 Fr. Alkiviadis Calivas having some fun in the background behind Stephanos and Alexandria Ritsi, two of the newer missionaries in Albania. (Luke Bullock, photographer)
We arrived at the Seminary and had a tour of the school and of the monastery of St. Vlash. Everywhere we go, we also have the opportunity to hear from Fr. Calivas, who has been giving presentations to each of the groups we meet. This has been a real blessing too, as he is a wise yet humble man. I have a feeling that I will learn quite a bit from him over the course of this trip. We stayed for lunch and joined the seminarians and faculty in the dining hall. I was one of the last to walk in the room, and walked immediately towards the first empty seat I could find. Of course, I was not paying attention that this empty seat was at the all-girls table, which was quickly brought to my attention by Fr. Luke in front of the entire room. After an awkward moment and laugh, it was pointed out to me that the all-guys table was indeed full, and so it was okay for a few of us guys to remain at the girls' table.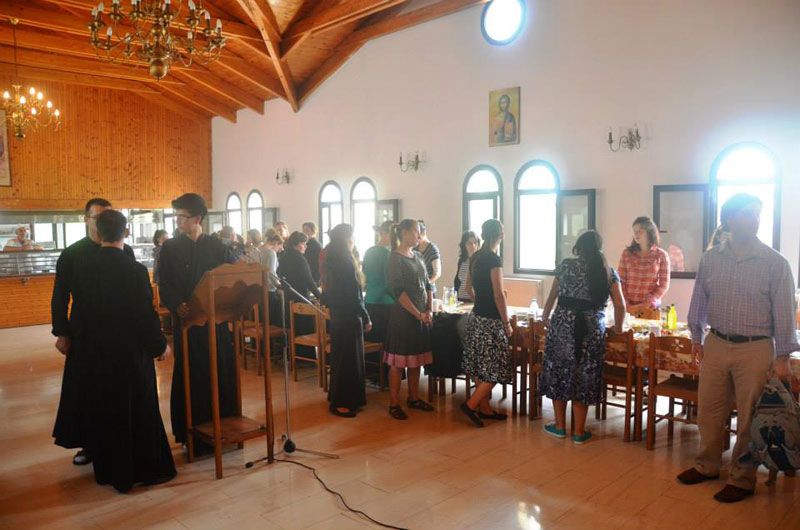 The cafeteria at the seminary. You can see me on the right realizing that I'm the only guy at the all-girls table! (Luke Bullock, photographer)
After the seminary, we visited the nearby grave of Lynnette Hoppe, heard her story and testimony from both Nathan and Fr. Luke, and had a chance to pray for the repose of her soul. Lynnette reminded me of my dear friend Sonia who passed away too young also a few years ago, and as we were leaving, Hannah and I had a chance to talk about that, as we were both thinking the same thing. We then met some local clergy and Seminary professors at a roof-top restaurant to relax and enjoy some refreshments amidst a beautiful view of the Adriatic sea.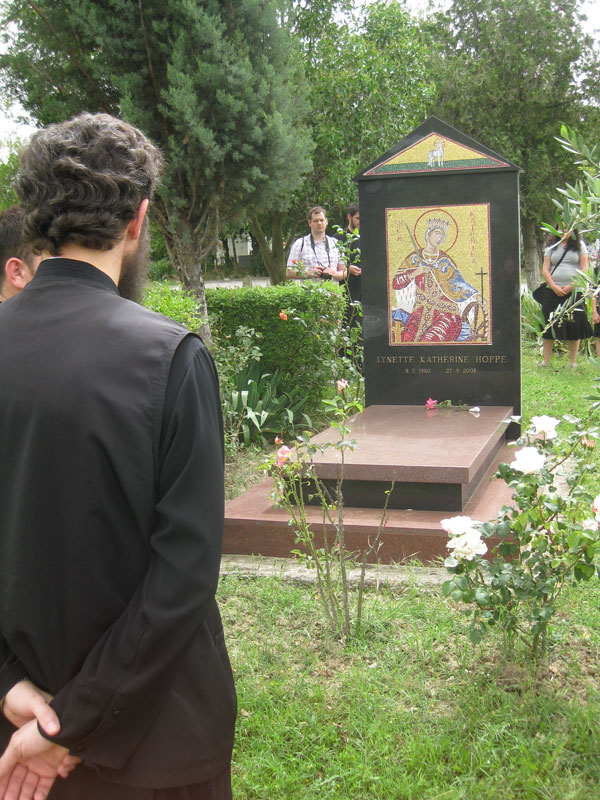 Lynette Hoppe was a missionary in Albania and passed away in 2006 from cancer. Her life was a shining example of Christian virtue despite tragedy.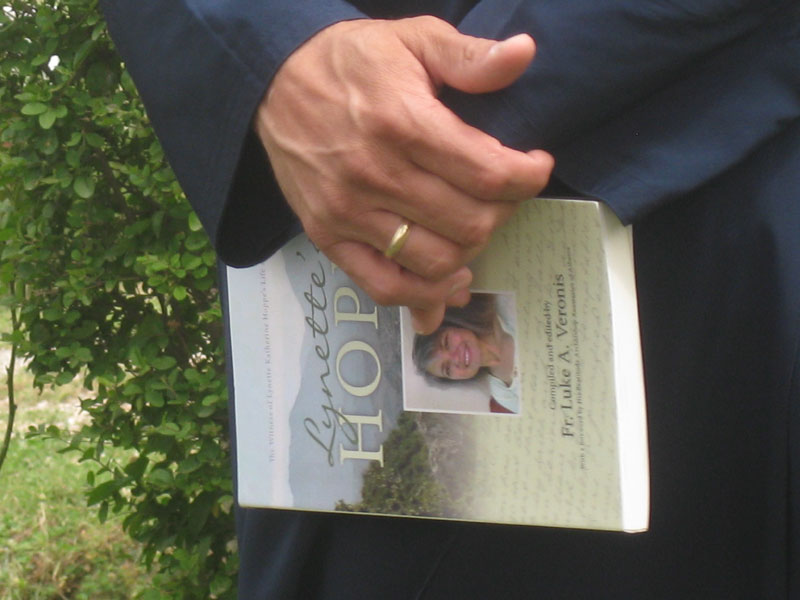 Lynette's Hope is the story of Lynette Hoppe through her journal entries, compiled by Fr. Luke.


View of the Adriatic Sea from the roof-top restaurant.
Thursday, May 30, 2013
My head popped off the pillow about 4 am, even before my alarm went off! I intended on waking up early, as today was a big day, and I needed to prepare for it. Andrew Otto and I were tasked with giving a presentation today in front of 100 teenagers in Berat, a nearby city. I'm not used to public speaking, so I like having what I'm going to say clearly written out and rehearsed. Over time, hopefully I will get better at it. I quietly got ready so I wouldn't wake up my roommate, Nick, and I came downstairs to work on the presentation and a lyrics sheet (for all of the songs that we've had to sing). We had some ideas about what to say in our talk, but I had prayed looking for guidance. When I woke, I realized that the message of the Gospel is so simple and I should just stick to that: God is love, Christ is love, and we are called to be love.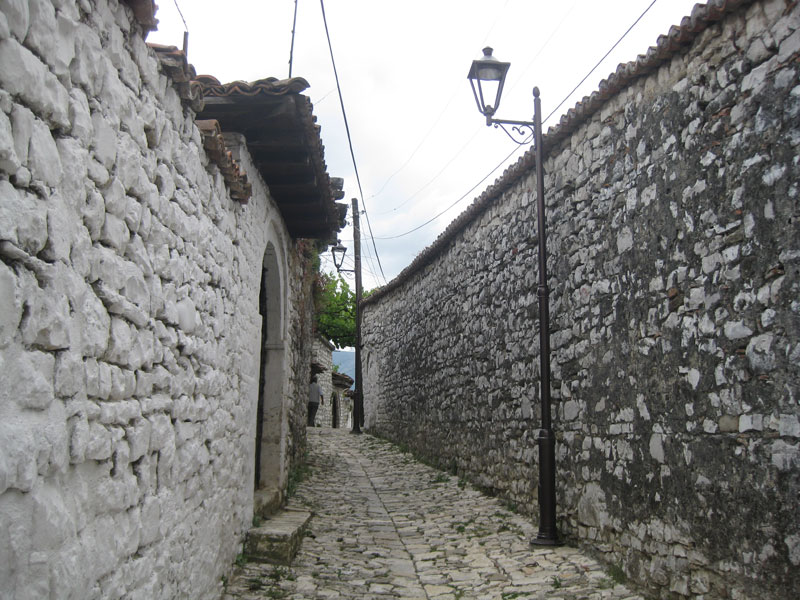 A stone road in the town of Berat
Berat's landscape is breathtaking and majestic. The houses and structures were so seamlessly integrated into the mountainsides themselves, it was as if this is how nature intended them to be, growing right out of the rock.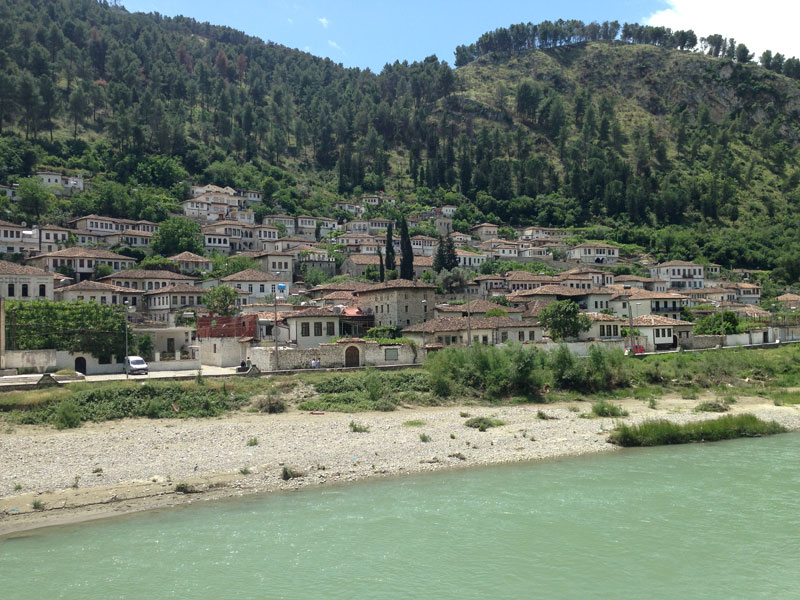 In Berat. Houses appear to grow naturally out of the hillside.
During our talk, I was impressed at the intelligence of the students. As Ana Baba pointed out, they may have the knowledge but not the experience of being able to apply it to their lives practically. Nonetheless, I very much enjoyed engaging in dialogue with these students. After the main talk, the chanters from the Tabor Center were there and sang a few songs. We then broke into smaller discussion sessions. Olenka, Anna, and I led our small group. Overall it went okay, though I was very much challenged by the small groups. How can we be meaningful and provide a positive impact on these kids in such a small amount of time? On one hand, it is arrogant for us to think that we can make a difference in such a small amount of time, while on the other hand, at times, we only have but a brief moment to make a lasting impression, and we must try our best to do so.

Andrew and I present to the youth in the church with the assistance of Ana Baba to help translate. (Luke Bullock - Photographer)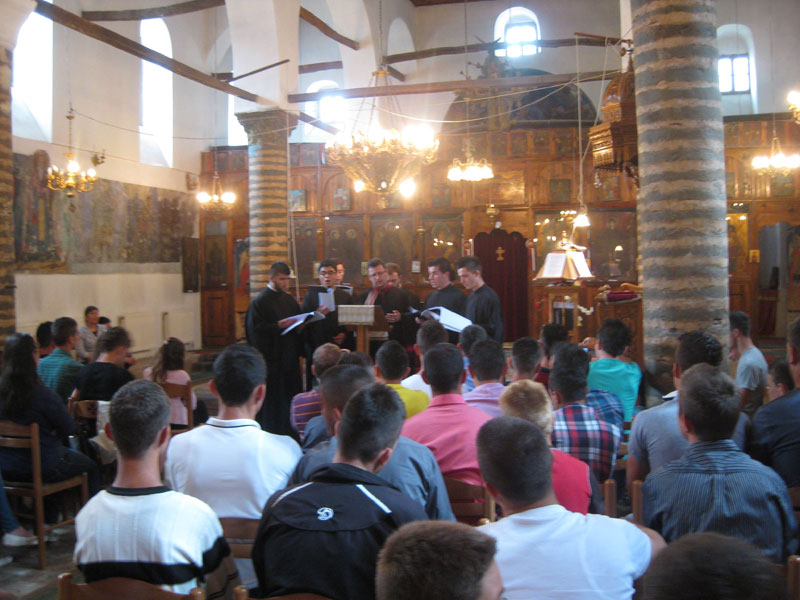 Our friends from the Tabor Center joined us at the youth day program in Berat with some beautiful byzantine chanting.
Following the presentations, we walked down the river to the local church. I was talking with people the whole time so we never actually went inside. The church was immediately next to a mosque, which was an interesting pairing for me. The plurality of the society here strikes me nicely – Muslims and Christians living side by side one another. We then took a bus to the castle at the top of the hill, which at one time housed 40 individual churches; this castle was massive! After a short hike within the walls, we visited an ancient church / museum.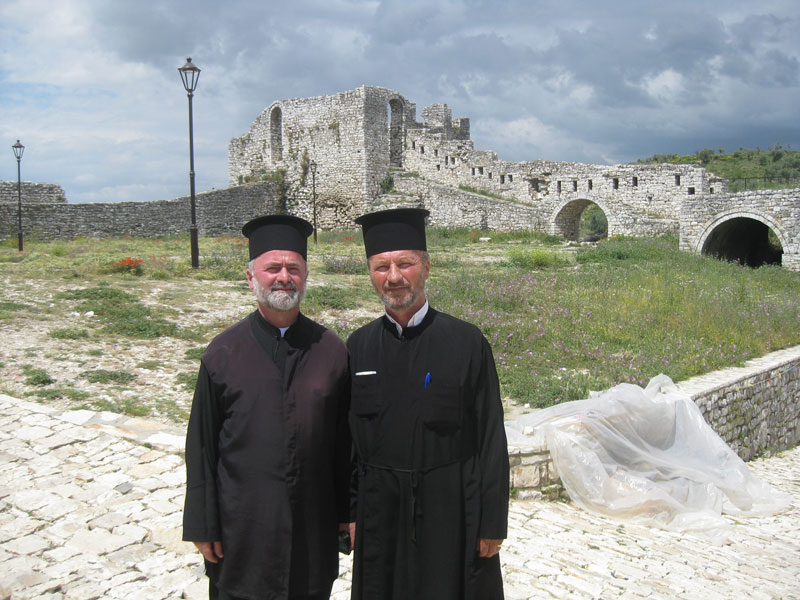 Two local priests pose outside the walls of the Berat castle. In earlier times, over 40 churches were active within the castle walls.
We then joined the entire Diocese for a nice meal at the nearby restaurant. We each sat at tables integrated amongst the local teens, young adults, and clergy. This meal went on quite a long time. After a very large salad with veal meatballs first course, out came steak and French fries, and then dessert. At first, I did not have a seat, but that gave me the chance to bounce around to a few different tables and talk to more people. As the meal progressed, there were a few addresses – the Metropolitan, Fr. Luke, Fr. Calivas, etc. – and then a LOT of singing. The Chanters first sang a few hymns, and then we sang our set of hymns and songs. Finally, after we all returned to our tables, the entire room broke out into traditional Albanian songs.
It was meaningful for me to see how music connected everyone there present, both young and old and across cultural borders. From the younger children, to the older teens, advisors, chanters, and up to the priests, all were singing together. Secondly, our cultural and language differences didn't stop us from singing together. We were able to sing "O Pure Virigin" / Agni Parthene in Greek, Albanian, and English all together with the chanters, which was a beautiful testimony for me to the universal nature of our Church.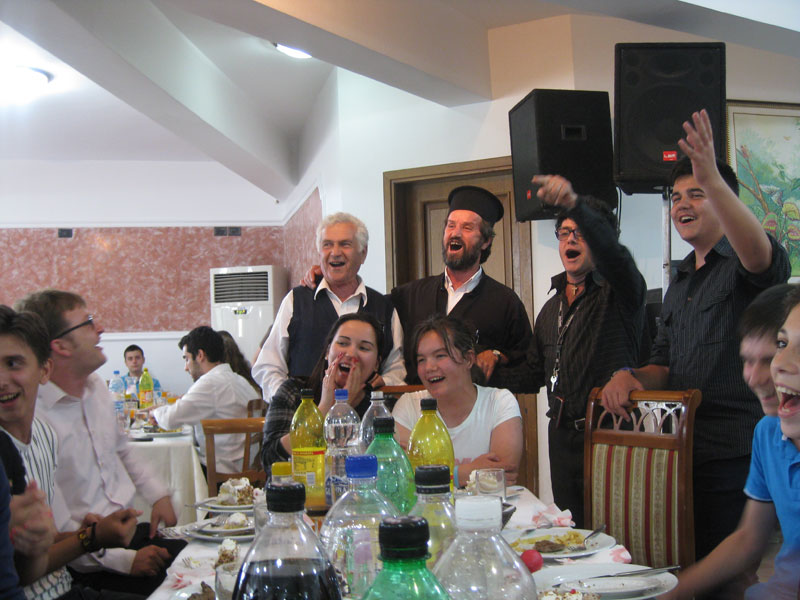 At the dinner, the local clergy, youth leaders, and teens sang traditional songs for well over an hour and could have kept going and going!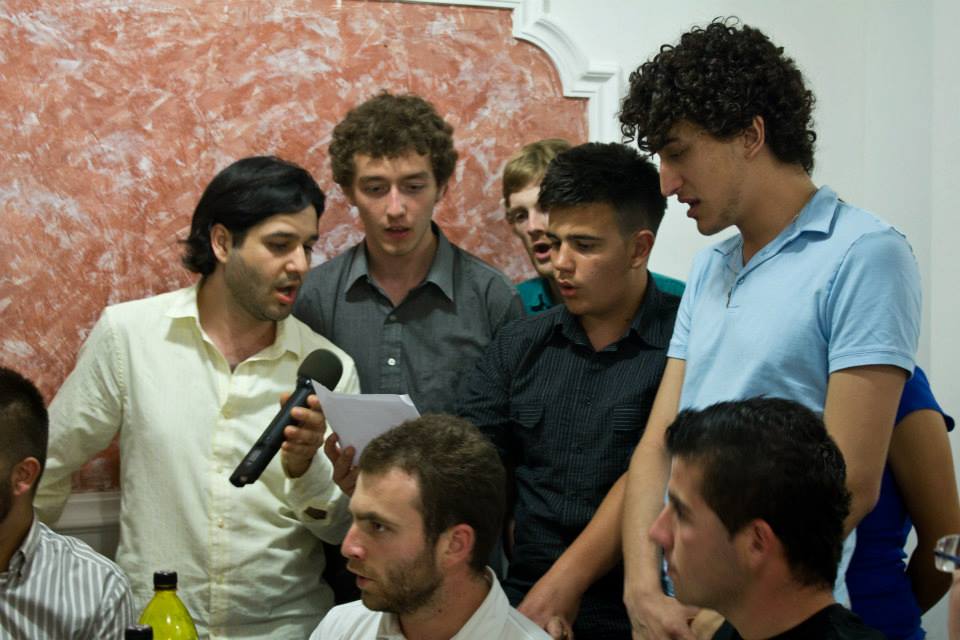 The Albanian chanters and our group singing Agni Parthene /O Pure Virgin - in English, Greek, and Albanian! (Stephanos Ritsi - Photographer)